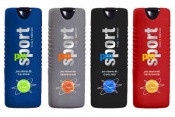 Color:
colourful
Features:
strong men's perfume2in1 formula
General Product Information:
Pro Sport - an ideal line for active people. Smart and powerful packages with great 2 in 1 formulations perfect after sports and all exercise. Available in many variations: fresh, power, cool, relax, energizing and spa. Orginal design, wide range of natural ingredients, and remarkable character give original fragrances mix. You can choose shower gels, hair & bodywashs and deo rolls on. o ProSport Hair & Bodywash 300 ml - combined sensitive shampoo and long-term body wash. Universal and practical product. o ProSport Shower Gel 600 ml - fresh feeling and vital energy o ProSport Deo roll on 60 ml - move you body with extremely fresh o ProSport Family line 500 ml - perfect solution for all family with vitalizing cream shower and full protecting vitamin body & hairwash. For fresh and well-rested all day. o Additional new are products for Kids. Safety, mild and nature fragrances closed in colored original packed design. ProSport Kids Mild conditioner spray makes wet or dry hair more manageable and easier to comb. Leaves the hair soft and shiny. More comfortable variant is Mild shampoo and conditioner. Ideal connection Mild shampoo and Mild conditioner helps to keep fresh and shiny effect. ProSport Mild shower & Foambath gentle and care for youngest member of you family.
Marketplace:
| | |
| --- | --- |
| Country: | Poland |
| Industry: | Cosmetic Industry |
| Delivery Time: | 6 weeks |
| Price: | 0,40 |
| Quantities: | 5000 |
| Type: | Selling Offer |
Return to overview